New Pictures
John Ebersberger Sr.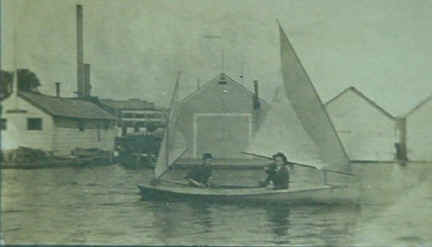 Mathias Ebersberger and Frank Jungwirth sailing on the Fox river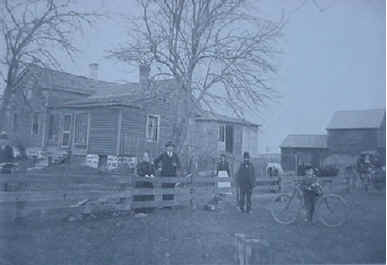 John Ebersberger homestead, Witzel Ave.
Pictures courtesy Esther Ebersberger Langkau
Weekly Times
Oshkosh, WI
Aug. 19, 1893
SOMEONE HAS LIED
Conflicting Testimony in the Sixth Ward
Stabbing Affray
The sixth ward stabbing affray has drawn its last crowd to Justice Merrill's court room and for a while this case which has been the center of an unlimited amount of interest will rest. It was called Tuesday morning and the defendant was bound over to circuit court. His bail was reduced from $2,000 to $1,000 owing to the fact that the plaintiff has apparently recovered his health. At the time the first bail was fixed the condition of the plaintiff was considered critical and it was doubtful if he would recover.
The alleged assaulter, Joseph Drexler and his victim, Eronimous Youngwirth, were in the court room yesterday and were watched with considerable interest by inquisitive spectators. Since the arrest the case has taken an entirely different aspect and the testimony to be introduced will be contrary to all expectations. It is understood that the defense will try to prove that Drexler did not cut Youngwirth and that he did not chase him out of the hall. It will further offer testimony to the effect that Youngwirth assaulted Drexler and inflicted a serious wound, to which a scar that has ruined the appearance of the face attests. On the other hand the prosecution will endeavor to prove that Drexler inflicted the nearly fatal blow upon Youngwirth; that the latter did not assault Drexler and that Drexler followed him out into the yard with the intention of killing him. It is the general opinion that in case of conviction the defendant will not be charged with more than assault with intent to do bodily harm.
Youngwirth had a narrow escape and illness has had a marked effect upon him. It is said that his bowels protruded through the wound, but luckily they were not cut. His face is deathly pale and he walks sideways as if he is still suffering. His mother accompanies him wherever he goes.