ST. VINCENT'S CHURCH
---
St. Vincent's Church was started in 1868 at the corner of Oregon Street and South Park Avenue. The current church was built in 1914.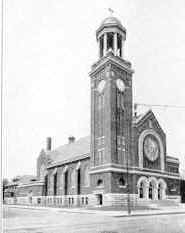 The parish serves the southeast side of Oshkosh. Members were primarily of German ancestry and the early immigrants from Bohemia were members of St. Vincent's before Sacred Heart Church was built in 1906. Because the parish was dominated by the Germans, the Irish of the south side petitioned the bishop, in 1893, for their own church and they built St. John The Evangelist church, on South Park Avenue, in 1896.
Mary Pable, church historian has researched the archives and has more information. When I am able to contact her I will add to this page.
---
25th anniversary program of the St. Boniface Young Men's Society
Sunday May 25, 1913
Overture Orchestra
Song St. Caecilia Choir
Willkommen Anton G. Pable
March Orchestra
The Catholic Young Men Eugene H. Kaudy
Song St. Caecilia Choir
Our Society Christian Grabner
Waltz Orchestra
Unsere Ehren Mitgleider Mathias J. Baier
Song St Caecilia Choir
Unsere Verstorbene Mitgleider Frank Kriz
March Orchestra
The Catholic Church in America John J. Baumgartner
Overture Orchestra
Comedy Stunt Christian Grabner
Song St. Caecilia Choir
Comedy Farce "Fun in the School Room" by the Messrs. Jacob Jungwirth, Teacher;
John Glaeser, Hebrew;
Joseph Jungwirth, a sissy boy;
Frank Neustifter, Rube.
America By the audience.
A photocopy of this program is in my possession.