Sacred Heart Parish was formed in 1906 by residents of Southwest Oshkosh, in the sixth and thirteenth wards, who were recent immigrants from what is now Germany, Austria and the Czech Republic. Most of these people were Germans that claimed Bohemia or Bavaria as their birthplace, although there are other nationalities represented in the parish such as Irish, Polish and other Germans. The parish was split off from St. Vincent's parish which was becoming too crowded and was too far a walk for Catholics west of Ohio Street. If you are looking to find genealogy records of family members determine the date and address so you will know if they became part of Sacred Heart Parish.
The parish's first building was a church and school combination. It was built at the SW corner of Fifth and Knapp Streets. The first mass took place in the church December 8, 1906, even though the building was far from complete. The blessing of the new edifice was on May 10, 1907. Many members of the parish helped with the construction. About this time Father Schmitz acquired 40 acres of land south of town for a cemetery.
The school opened with an enrollment of 250 children. Six sisters from the Franciscan Sisters of Christian Charity ran the school. The building soon proved too small for adequate school instruction and in 1913 an addition of six rooms was added to the rear of the school. The parish also acquired additional lots next to and behind the church for expansion and playground use.
The final payment on the note of the church was in 1916 and now the parish was clear of debt.
The membership continued to grow and an assistant priest was hired, Rev. Joseph Rauch. Up to this time the German language was used in the sermons and now with the arrival of Rev. Rauch arrangements were made to conduct some services in English. By the late 1920's the parish was outgrowing the old church-school building and plans were made for a new church. The depression put those plans on hold however and by 1938 the parish was ready to move forward.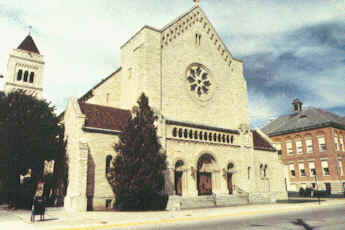 The corner stone was laid Oct. 2, 1938 and the first mass was said Aug. 20, 1939 even though the alter and other furnishings were not yet installed. Formal dedication rites were conducted on the first Sunday in October, 1939 by Bishop Rhode. The new church was built just south of the old building at the corner of Sixth and Knapp streets.
The rose window over the entrance to the new church was donated by my grandmother, Mary Winkelbauer Kinderman, in memory of her sister, Therese Winkelbauer. She also donated several of the statues in the church, including St. Therese.