OCCASIONAL HIGHHOLDER
2006
Vol. 5 Issue 1
---
Sacred Heart Parish 100 Year Calendar
Black and white 81/2 x 11" paper, wire bound
Contains lists of Pastors, Sisters, Sons and Daughters, members of various clubs, Parish Council officers, the first 100 marriages performed at Sacred Heart Church, and some great old pictures. The calendar days list different happenings over the years on those days.
probably sold out by this date
Sacred Heart Centennial Book
By Clarence Jungwirth
182 pages, 81/2 x 11" paper, folio bound.
Great history of Sacred Heart Parish for the first 100 years. Contains many pictures never before seen in any publication.
If you are familiar with Clarence's previous books then you will know what this book is like. I wish it was a real book just so the pictures would be better, instead of just copies.
$20.00 + $2.00 postage
Also
History of Sacred Heart Christian Youth Organization $10.00 +$2.00 postage
Compilation of old church bulletins - 2 vol. set $40.00 + $4.00 postage
Financial reports of Sacred Heart $10.00 + $2.00 postage
Books available from
Sacred Heart Parish Office
1025 West 5th Street
Oshkosh, WI 54902
or at the annual picnic
---
Sacred Heart 100 year Class Reunion
June 17, 2006
During the annual picnic
1-4 pm for classes from 1920, 1930, 1940's
4-7 pm for classes from 1950 and 1960's
7-10 pm for classes from 1970, 1980, 1990's
Contact the parish office with an RSVP if you plan on attending
email: sacheart@vbe.com
phone: (920) 235-2073
or address as above
---
Some newspaper stories on the Troiber's
Joseph Troiber death
May 20, 1902
Daily Northwestern

May 21, 1902
Daily Northwestern
Katherine Troiber Obituary
April 7, 1917
Daily Northwestern
Edward Troiber Drowning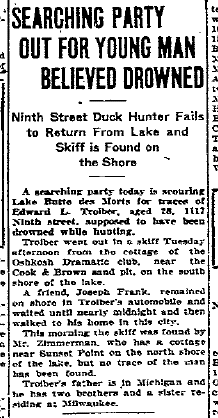 Nov. 12, 1924
Daily Northwestern

Nov. 14, 1924
Daily Northwestern
Joseph Troiber Obituary

Aug. 31, 1963
Daily Northwestern
---
Photo update

Names added to Johann Nigl family picture on photos page

Hi Peter,

I just noted the Johann Nigl family picture submitted by Vanessa does not have all the names listed. My mother gave me this list::

The back row: Mary – Herman-John Jr. and Caroline

Front row: Mary Nebel Nigl – Rose – Ann – Johann

Seated is Josephine

From

Gary Luther formerly of Oshkosh
---
Newspaper story
Daily Northwestern 1914

---
WALLERN in WW II
Names for the fallen in WW II on Wallern page
From the book Die Stadt Wallern im Bohmerwald
American liberation of Wallern
The last American G.I. killed in Europe, a Czech American named Havlat from Neb. was killed in Wallern, by a German sniper. The locals in Wallern had not heard the news of Germany's surrender and apparently
were fighting to the end.
To see more about the story go to www.radio.cz/en/article/66298
http://737thtankbattalion.org/Victory/index.htm
---
Wallern Surnames Circa 1945
Names from Listen Der Wallerer Hauser. By Franz K. Walter. Forderverein Wallern/ Bohmerwald
Achatz
Assmus
Altmann
Baier
Bauer
Beck
Biebl
Blosl
Bohm
Brauer
Bubl
Draxler
Eder
Eppinger
Essl
Faschingbauer
Fechter
Fiedler
Fischer
Friedl
Gabauer
Gaier
Gastager
Geyer
Gorner
Graf
Gutwirth
Hafner
Hajek
Haldek
Hall
Hammerschmidt
Haselberger
Haselsteiner
Hauner
Heinzl
Herbst
Herzog
Hoffmann
Hois
Huttl
Ilk
Jandl
Jarosch
Jungbauer
Jungwirth
Kandl
Kasper
Kempinger
Kiewig
Kindermann
Knabl
Kohlberger
Kolbl
Kossl
kozeny
Kral
Kralik
Kuchler
Kurz
Lang
Lichtnecker
Mager
Mathe
Mauritz
Meindl
Meixner
Melchart
Merwald
Muller
Mutzenbauer
Nusko
Pablitschko
Paulusch
Peter
Pinsker
Pisker
Plach
Pollak
Prager
Praxl
Proger
Publ
Rauscher
Reif
Riepl
Riess
Ritter
Robl
Rothbauer
Salzer
Sauheitl
Schiestl
Schilhansl
Schiller
Schmid
Schneider
Schonbauer
Schramek
Schraml
Schreiber
Schroder
Schulz
Seidl
Sippl
Sitter
Sixl
Sommer
Sonntag
Sterner
Stepani
Stifter
Stini
Stogbauer
Tahedl
Tausch
Veith
Vogl
Wagner
Walter
Weber
Wellek
Winkelbauer
Winter
Wurm
Wuschko
---
This from Janet Eiler. If anyone wants to help out at the fair let her know.
April 22, 2006
Highholders of Oshkosh
Oshkosh, WI 54901
The Winnebagoland Genealogical Society (WLGS) is going to be renting a booth at this year's Winnebago County Fair, August 8 – 13, 2006 and invite you to share and participate with our effort to inform the public of our existence and welcome them to join our society.
As we have found that renting a 10x10 booth is rather expensive. The booth rental is $165.00 and $100.00 for $500,000 liability insurance (minimum required by the Winnebago County Fair Association) WLGS decided to invite other local societies to join in our booth to help defray the expense.
We invite Highholders of Oshkosh to participate with an offering to display your publications you might have for sale or any flyers or brochures you might want to have available for people to take home. In exchange we ask for a donation toward the booth expense.
If you have any volunteers willing to help staff the booth that would be greatly appreciated too, but not necessary. We are limited to two passes that we all must share to have access to the fairgrounds without charge.
Should this be something anyone might be interested in please contact Janet Eiler at the address above or call 920-651-0656 or email at Jeiler@new.rr.com
Thank you for your consideration and your eagerness for public awareness!
Regards,
Janet Eiler, President
---