MONTHLY HIGHHOLDER
May 2004
Vol. 3 Issue 5
---
I need everyone to send me an email requesting to be on the Monthly Highholder list. The last few months I have been having a hard time sending out notices that the newsletter was posted. Many of your addresses were rejected and returned to me.
Also I am running out of things to post. Please help by sending anything of interest.
Thank you.
---
Reunion of the former parishners of the churches of Salnau and Schönau in Bohemia
July 31- August 3, 2004
Biennial Reunion
---
New pictures of Hirschbergen
Courtesy of Fred Schroeder
See also Hirschbergen page for more information.
1930's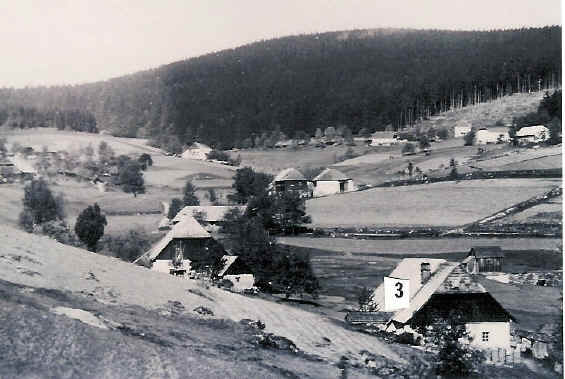 From the bottom right to the left
| | |
| --- | --- |
| #3 | Pasta |
| #4 | Schlager (Grofn) |
| #5 | Bernhard (Seppn) |
| #6 | Tanzer (Toanza, white house) |
| #36 | Pasta Wenzel (white house) |
| #7 | Pendelin |
| #8 | Fechter (Tomerl) partly visible |
| #9 | Jungwirth (Lenzn) partly visible, house of the village bell |
| #10 | Schlager (Pforameiner) |
| #28 | Schlapsi (Tischla, cabinet maker) |
| #31 | Fechter (Baun Fronz) |
| #14 | Saumer (Saumer Korl, Guesthouse) |
| #15 | Fechter (Vorder Fechter, guesthouse tobacco store) |
1930's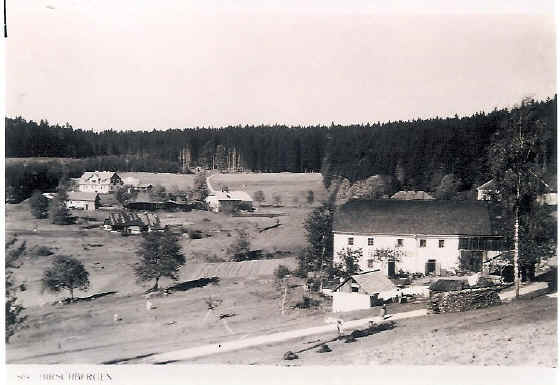 From left to right:
| | |
| --- | --- |
| #12 | Duplex, Saumer, Prager (dark roof) |
| #29 | Schwarz (Heisl Franzl) |
| #33 | Main Duke of Scwarzenberg Forest Office |
| #13 | Binder (Hega) Heger-Forester |
| #14 | Saumer (Saumer Korl) Guesthouse |